History of Triowrap silage wrap
Triowrap was introduced in the 1980's and is one of the worlds most used bale wrap. We have a long history within the baling application and Triowrap is well tested by contractors, machine manufactures, independent research institutes.

The Triowrap premium film assortment offers you highest reliability due to best running performance, solutions for wrappers as well as ideal characteristics for securing the valuable feed.
A full range of products to cover all needs when baling crops – For best economical silage with a sustainable leadership!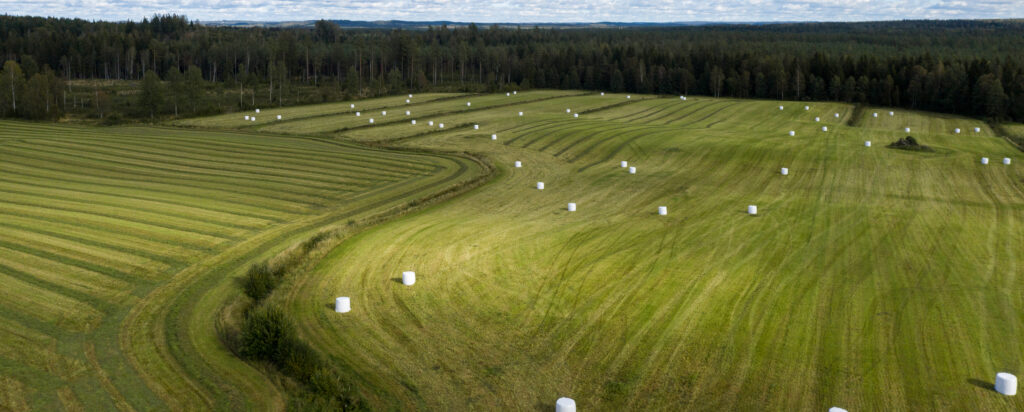 Why Triowrap bale wrap?
Triowrap being largest in Europe proves that farmers are secure with their choice of feed protection, and one of the main success factors for producing best baled silage is the quality of the used materials in the stretch film.
The Triowrap premium silage wrapping films offer you highest reliability, due to best running performance as well as ideal characteristics for securing the valuable feed. We offer silage wrapping films for all types of wrappers in different length for increased efficiency during hectic harvest times.
Additional to that, all our bale wrapping films are not only tried and tested extensively in field, but also by independent research institutes. For example, we have a close cooperation with researchers at the Swedish University for Agriculture, SLU, that help us test and evaluate our products.

For more information visit their website www.slu.se/en/.
Do you want to increase your efficiency with our bale wrap?
Need help finding a local Triowrap dealer?
Find out more about our crop packaging portfolio and the high-performance silage wrap products
Triowrap offers a full portfolio for producing a hiqh-quality silage, starting from mantel film to bind the bale compactly and give it a good shape to all different types of bale wrapping film, no matter if regular 750 mm by 1500 m or silage wrap films with increased length up to 2600 m per reel for professional efficiency.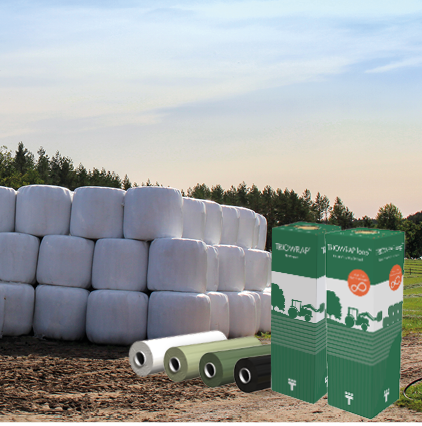 Triowrap and Triowrap loop
The Reliable Choice for bale wrapping
The usage of best raw materials creates a silage wrap film that offers a consistent quality, even under extreme conditions as high temperatures, windy, dusty environments and high humidity.
The excellent stretchability and elasticity of this bale wrap, as well as a significantly higher puncture resistance than standard silage films are a base for airtightly wrapped bales and a permanent protection.
The high pre stretch levels up to 80% make the wrapping film more efficient as more bales can be wrapped per reel and hour.
Triowrap and Triowrap loop can be used on all type of wrappers, for all forages and on all bale types.
Triowrap plus
Makes you more efficient in bale wrapping
Triowrap plus is the new generation of bale wrap. We have now taken the usage of material to the next level with our unique technology platform PlusTech to create a thinner film but with the same performance as a 25 micron premium film.
What are the benefits for you? You'll become more efficient in your working, not only saving time, but also costs and material!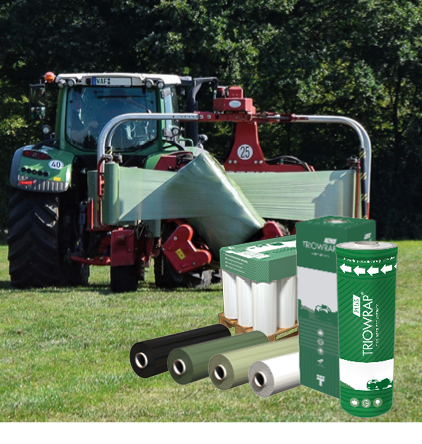 Triowrap plus Charity Edition in pink, blue and yellow
Supports cancer awareness!
Triowrap plus in pink, blue and yellow offers the same function and high quality as other Triowrap plus 1900 m products, but the light colors pink, blue and yellow catch the eye in field and by that raise awareness for cancer.
What makes it so special, is that for each reel a common donation by us as the producer, our dealers and you as a user is made.
TrioBaleCompressor
Mantle film to take your silage to the next level
Mantle film or net replacement film offers the possibility to produce ensiled forage without using net wrap.
TrioBaleCompressor is a new solution that, when used in combination with high-quality bale wrap film, makes bales easy and convenient to handle at the same time as the preservation of energy and nutrient content improves. Silage bales that are baled with the TrioBaleCompressor net replacement film have a considerably higher density and more stable shape than what was possible using net wrap.
What makes TrioBaleCompressor superior to other brands on the market, is its patented stretchability, making it the most efficient mantle film available, giving you the most bales per reel.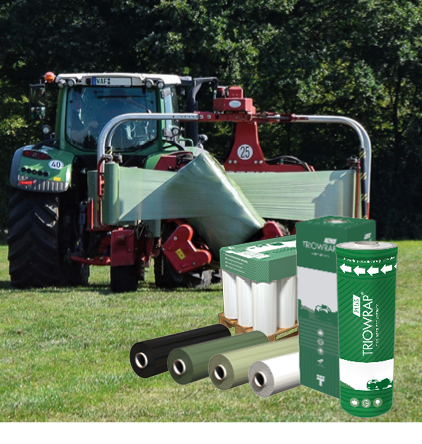 Not sure which bale wrap solution is the right one?
How to be more sustainable in baled silage
The first and most important step is to reduce your feed losses as much as possible. Triowrap silage wrapping products have been proven to enable silage with very low losses, e.g. dry matter losses were down to 1%. Click here to learn more about how the choice of silage wrap impacts your feed losses and how you can save ready cash by doing so.

Aim for highest efficiency in your silage making – with our Triowrap plus bale wrapping products you can increase your efficiency by up to 73%!

Also switching to our thickness optimised Triowrap plus products, based on the PlusTech technology reduces the total material usage when wrapping bales.

Use products with recycled content – Try our Triowrap loop! Triowrap plus and our mantle film TrioBaleCompressor are also available as loop options reducing the carbon footprint by up to 50%! If you want to learn more about our in-house recycling process, click here!

Reduce your packaging waste when baling by switching to packaging alternatives. Our silage wrap film is available in a regular box, but also in a unique one-piece Sleeve or without individual packaging, directly packed on the pallet as Contractorwap.

Make sure to collect and sort plastic waste after usage, so it can be recycled. All Triowrap silage wrapping and mantle film products are fully recyclable, including the packaging!